Students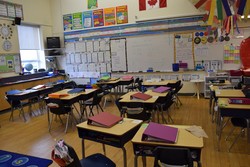 St. Martin's Catholic School Student Handbook 2014-2015
St. Martin's Catholic School Student Agenda
Of course the only reason that we have a school is so that we can teach the students! This school is one of the most caring and helpful environments that anyone could hope to learn in. If you want an exciting and amazing place for your child to learn, this is it!
Library
St. Martin's Catholic School provides library services under the direction of our Library Technician Mrs. Lesley Lane-Robinson.  The library provides books for students to borrow at a variety of reading levels and interests, including fiction and non-fiction titles.
Twice per year, normally at parent-student-teacher interviews, the library hosts a book fair to help support the library.